Helping Kids Have Great Lives Starts With Focusing On What They Do Best
Purpose
Clifton StrengthsExplorer helps kids discover and develop their talents.
Each child is gifted in their own extraordinary way, but sometimes we take that for granted. In fact, having unique differences is our best multiplier for success.
You can better prepare your elementary- and middle-school-aged children by giving them the ability to better know their own potential. By taking Clifton StrengthsExplorer, your child will receive a report with their top three talents and ideas for how to highlight, illuminate and provide important data and action steps for a better future.
When kids discover their talents, it can lead to:
resilience and confidence
productivity and engagement in school
hope and direction for the future
And doesn't every child deserve to have all of these advantages?
Watch: Why Clifton StrengthsExplorer is needed to help children be their best.
For Educators & Parents
Helping kids understand their talents.
Nearly half a century of Gallup research proves that a person's greatest path to a thriving and engaged life happens when they understand their talents and develop those talents into strengths.
With Clifton StrengthsExplorer, young people begin their journey with personalized tools. The assessment provides parents, educators and caring adults accelerated support to empower their growth.
The Top 3 Report showcases the individuals's dominant talents along with student and adult action items to build and broaden their potential.
Using Clifton StrengthsExplorer
Educators around the world rely on Clifton StrengthsExplorer to empower students to learn and grow.
Teachers, administrators, counselors - anyone who wants to help students succeed - can use Clifton StrengthsExplorer to improve social and emotional learning approaches.
Download the Clifton StrengthsExplorer Educator/Leader Activity Book to get engaging and effective group activities to help students apply their strengths every day.
Identifying and supporting a child's talents is a challenging, lifelong opportunity for parents.
That's because one of the best ways to help kids succeed - not just in school, but throughout their lives - is to help them develop their unique talents into strengths.
Clifton StrengthsExplorer provides a powerful experience for children to accept, affirm and grow better through their strengths. The Clifton StrengthsExplorer Top 3 Report and supporting resources prepare and reinforce parents as they encourage kids to apply their talents every day.
Download the Clifton StrengthsExplorer Parent Guide to learn more about how parents and children benefit from discovering what makes each child unique.
Watch one mom explain how she uses Clifton StrengthsExplorer to empower her children.
Discover talents.
Over 3 million children know their Clifton StrengthsExplorer talents, and they have something no one can take away: They know what they naturally do best.
The online Clifton StrengthsExplorer assessment can be completed in a short amount of time. The assessment features questions on how your child naturally thinks, acts and feels.
Next, they receive a personalized Clifton StrengthsExplorer Top 3 report that reveals which of the 10 Clifton StrengthsExplorer talent themes are strongest in them based on their responses to the assessment.
Children then can work with parents, teachers and other adults using Clifton StrengthsExplorer resources to get the most from their talents.
Buy Clifton StrengthsExplorer to help kids succeed.
Clifton StrengthsExplorer Access Code
US $9.99
This online assessment gives children aged 10-14 the chance to discover their natural talents at an early age.
For Educators & Parents
Listen to the Clifton StrengthsExplorer Webcast to Grow Your Child's Potential
The webcast series dives deep into the ten talent themes of the Clifton StrengthsExplorer and is designed for adults who are interested in accepting, affirming and growing the individual potential within a child. This series expands your language to describe what is right and strong in children aged 10-14.
Listen Now

: to the Clifton StrengthsExplorer Webcast
What's Included with Clifton StrengthsExplorer
Reports and activities aimed at helping kids reach their full potential using their talents.
Gallup designed the Clifton StrengthsExplorer results report and supporting resources to help children get the most out of what they naturally do best. For additional Gallup books and products relating to this age group, visit the Gallup Shop.
Clifton StrengthsExplorer Top 3 Report
This report provides kids aged 10-14 with their top three Clifton StrengthsExplorer talents and includes ideas children can use, with support from a caring adult, to develop what they do best.
View Sample Report
Clifton StrengthsExplorer Youth Work Book
Includes activities to help children better understand what makes them unique and help them start applying their talents every day.
Download Youth Work book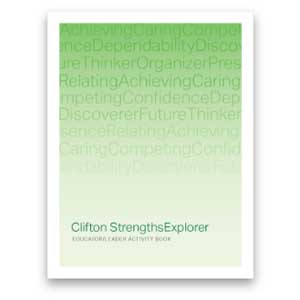 Clifton StrengthsExplorer Educator/Leader Guide
Features invaluable activities and resources to help kids be their best by using and developing their talents. Choose from either one-on-one or group activities.
Download Educator/Leader Guide
Clifton StrengthsExplorer Parent Guide
Contains questions, ideas and activities to help parents and children understand the language of talent and how to develop talents into strengths.
Download Parent Guide
Bring the power of Clifton StrengthsExplorer to your school, home or organization.
Gallup offers custom solutions for bringing Clifton StrengthsExplorer to large organizations like individual schools and entire districts. Complete this form, and a Gallup expert will contact you to learn more about you, your needs and the solution that's right for you.